A long time ago we began a tradition in our house. Instead of the traditional turkey, ham or goose (we had that when I was a child) for Christmas dinner, we began to have Mexican food-- tacos, enchiladas, tamale pie, sopapillas, tortilla soup not to mention a pile of tortillas. We made it all from scratch except the corn tortillas. I never learned to make those so we resort to the plastic bag packages.
I remember one of my son's friends and his girlfriend joined us one year. The girl stood watching me as I made tortillas. She asked in amazement, "Can you
make
those? I thought you had to buy them." And the enchiladas were even more amazing. "Don't you ever get them in a can?"
Yesterday, Rachael and I made a modified version of our old meal. We had Navajo tacos, enchiladas and roasted green chilis. The enchila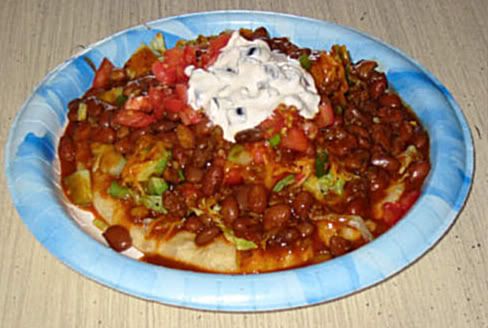 das were simple enough and anyone who has ever had Mexican food knows what they are. The Navajo tacos were a major production but soooo worth it .
The first time I ever ate Navajo tacos they were made by a navajo cook in a little restaurant over toward Fort Defiance. A Navajo taco is built on a piece of Navajo fry bread instead of the usual tortilla. And you don't wrap the innards in the bread the way taco bell does. You lay the big slice of frybread flat on the plate and heap everything else on top. The very first one set the standard for Navajo tacos as far as I was concerned. It used slivered mutton and pinto beans fried together with onions, and chopped green chilis with a light tomato sauce. A generous couple spoonfuls of this was heaped on a plate sized piece of frybread. On top of that was a layer of shredded cheese and then lettuce and then chopped tomatoes! A big dollop of sour cream finished it off with salsa around the center. Navajo tacos arent really as manageable as a plain old taco. You eat them with a knife and fork if you don't want a mess. Mmmm.
In consideration of anglo tastes, most Navajo tacos you get around dineh country have switched to hamburger. And our Navajo tacos, because we can't get decent mutton in Ohio, have beef too. We use a nice roast sliced into thin strips.
Yesterday when Rachael went to get the roast from the freezer to begin slicing it, there was NO beef! Either it had not ever come home from the grocery store or she just plain hadn't gotten it. The essence of Navajo cooking is practicality. Navajo women have fed their families from what ever was available for hundreds of years. We had a nice pork roast so our Navojo tacos were made of pork and pinto beans, two steps removed from the good old mutton. Pretty good, but I still like mutton better.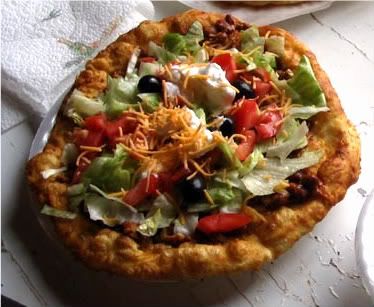 I saved my carbs again. So I was able to eat the taco and the enchiladas. My glucose reading this morning was only 108. Yay!
(Good grief! Looks like this has become a food blog! Well, at least it isn't boring food.)