I'm hurting this morning. I hurt all day yesterday and had trouble sleeping last night. And all because I sat outside with Rachael and Michael while they worked on the bushes in front of th house! It wasn't real cold. I didn't even need a sweater, but my knees did get chilled. So they are telling me about it. Rats.
But that is all beside the point. What is really exciting is that those ugly chopped off straight bushes are all gone. I don't remember if I've mentioned it before, but R&M got a fantastic deal on their house. It was a beautiful house but in need of some TLC that the owner wasn't interested in providing. One of the major problems was the landscaping. There very nearly wasn't any. These bushes ran all the way across the front and there was a scraggly big bush (cut back in this picture) in the middle. There was another big sprawly bush over by the garage door on the left where you can't see.. All the straight line bushes are gone now. There was originally two MAMMOTH junipers in the center of the right hand side that had been cut down before we ever saw it.

After all the bushes were gone there was still two big old stumps to be taken out before we (I use the 'we' loosely. I watch, R & M do!) can put in pretty landscaping. That's what they were doing while I sat out there and watched--digging those stumps out. Fortunately they were long dead and beginning to disintegrate, but it still took a lot of work to get them gone.



Now! We are putting in two 'sky pencil' hollies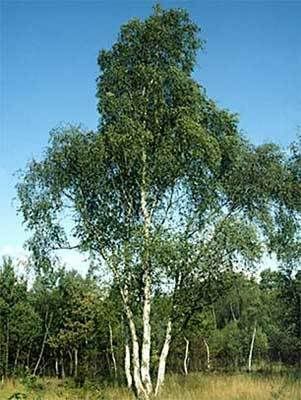 on either side of the door and birch trees out at the right end. In between will go some hostas and zebra grasses and I don't know what exactly on the left side by the window. Rachael wants to put a Japanese maple there in front of the window, but I say it is gonna get to big and hide the view. But at least if we get the hollies and the birch in it will begin to look like a loved and lived in house...



This is a Japanese Maple.... Gets kinda big to set in front of a window. Don't you think?
The leaves look like this. You can't see them in the big tree picture. The are deep burgandy in the spring, green in the summer and thent his bright red in the fall.
I'll keep you posted on the progress. It's exciting.